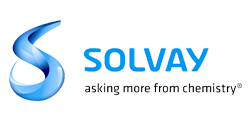 Solvay is a chemical company created in Belgium on 1863 by Ernest and Alfred Solvay, initially to produce sodium carbonate. Their constant technological evolution brought them to develop innovative yet sustainable solutions, with great added value for their end costumers from diverse sectors such as:
Aeronautic and automotive
Food industry
Construction
Energy and environment
Industrial applications
Solvay has a wide range of polymer and fluoropolymer-based coatings so to satisfy the various needs from every industrial sector. Their strategy is to offer innovative and competitive solutions with light and advanced materials bearing in mind the sustainability of the process.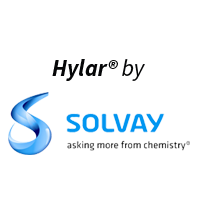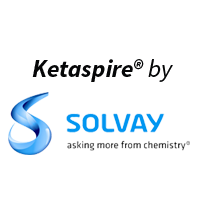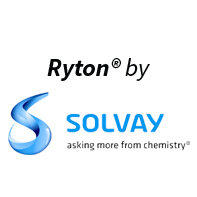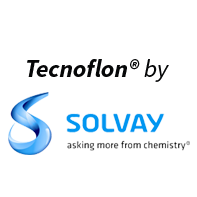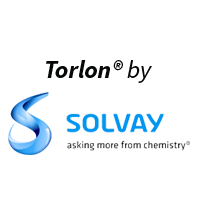 Algoflon ® - Polymyst ®
Those are two micronized powder dispersion products made of polytetrafluoroethylene (PTFE). Their properties, such as chemical inertia, excellent thermal resistance and low friction coefficient and water repellent properties as well as its lubrication properties are approved when used as additives for the composition of other materials.
Composition: water-based PTFE
Uses: to improve the processing of other plastic compounds.
Hylar ®
Is a polyvinylidene difluoride (PVDF) for extreme conditions. It is resistant to acid or alkaline products, oils, extremely high temperatures or UV radiation, guaranteeing their properties throughout a long period of time without suffering color degrade.
Composition: PVDF based resin
Uses: buildings metal structures.
Ryton ®
This Solvay coating is a thermoplastic composed by phenylene sulfur with high thermal and dimensional stability. A great variety of solvents rely on its chemical resistance. Non-flammability properties.
Composition: phenylene sulfur
Uses: for automotive, electrical applications, kitchenware, chemical industry.
Torlon ®
A family of polyamide-imides coating with exceptional resistance to compression and impact. This thermoplastic provides excellent dimensional stability and great resistance to abrasion in high temperatures and it also provides a great resistance to chemical agents.
Composition: polyamide-imide thermoplastic
Uses: chemical environments and high temperature conditions.
Hyflon ®
Available in PFA and MFA versions. They are perfluoroalkoxys, semi-crystalline fluoropolymers, completely fluorinated and suitable to be processed when melted. Classified under the ASTM D3370 standards, they offer the best chemical and thermal resistance of all the fusion fluoropolymers currently commercialized. They can be found in pellets, powders, and dispersions.
Composition: water-based fluoropolymer
Uses: automotive industry, chemical industry, kitchenware, bakery, oil&gas.
KetaSpire ®
This is a polyetheretherketone (PEEK) with optimal chemical and fatigue resistance, close to the polyphenylene sulfide (PPS) but able to be mechanized at temperatures up to 240 °C. It can be reinforced with glass fiber and carbon fiber so to provide different performances depending on the needs.
Composition: polyetheretherketone combined with glass fiber and carbon fiber
Uses: replacement of metal in extreme environments.
Tecnoflon ®
Fluoroelastomers and Perfluoroelastomers coatings that work under a wide range of temperatures providing chemical resistance. It is compatible with different materials such as lubricants, fuel for automotive additives and chemical products, becoming very useful for the industry.
Composition: fluoroelastomers and Perfluoroelastomers
Uses: oil&gas industry, automotive, renewable energies, seals.
Algoflon® references
D 1610 F
D 1614 F
D 2512 F
D 2711 F
D 3511 F
Hyflon® references
MFA® 1041
MFA® F1540
PFA 125X
PFA M620
PFA M640
PFA P450
PFA F1520
Hylar® references
301F
5000
5000 HG
KetaSpire® references
KT-880P
KT-880SFP
KT-880UFP
Ryton® references
r4-200
r4-230
r4-220
br111
r7-220
br42
r7-120
V-1
Tecnoflon® references
PFR 94
PFR 06HC
Torlon® references
AI-10
AI-30