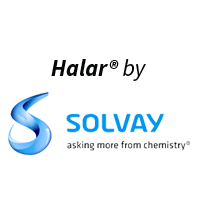 Halar ® ECTFE (ethylene-clorotrifluoroethylene) coating is a high performance fluorinated semi-crystalline polymer widely used in very demanding industries. Its most remarkable properties are corrosion protection, fire resitance and chemical resistance, perfect for semi-conducting and photovoltaic industries. It is presented in different formats such as dispersion, liquid and powder.
Properties and benefits of Halar ® coating
The coating Halar® ECTFE is a fluoropolymer processable by fusion. It can be handled via different techniques like extrusion, molding by compression, molding by injection and roto-molding. Amongst its properties we can highlight:
Chemical resistance
Resistance to fire
Great abrasion resistance
Low permeability
Great all-weather resistance
High Surface smoothness
Excellent antiadherent properties
Thanks to the properties of ECTFE, this coating can be used in many sectors. It has also an FDA version that complies with all the rules and regulations, used very often for water treatment plants worldwide.
Electric wiring, telecommunications
It Offers a low dielectric constant and excellent weather resistance, chemical and thermal resistance, ideal for both telecommunications and microelectric sectors.
Chemical Processing Industry (CPI)
High performance coating that offers great chemical resistance and low permeability. It is resistant to acid, solvents, caustic and oxidizing agents.
Pipes and valves for industrial systems
A great resistance to oxidizing agents makes this a very good solution for reactors, conduits, pipes and valves on industrial systems, even within chemical environments.
Oil&Gas Industry
Its properties make of it an excellent solution for oil&gas applications with great exposure to CO2.
1400LC
300DA
3404DA
500LC
513LC
558
6012F
6014
6014F
6514
6614
6914
901
902
930LC
9414
XPH 871